GAIT provides a high level of fairness in personnel evaluation. Self-development of engineers can be expected.
MTI Ltd. famous for developing mobile contents such as music.jp and Luna Luna, decided to use GAIT to fairly assess their engineers. Since autumn 2012, they have been a GAIT user and will keep on taking advantage of it by using GAIT as a supplementary to MTI's personnel evaluation system every twice a year.
In order to motivate and utilize engineers' skills to their full potential, it is very important to evaluate each and every engineer impartially. However it is not uncommon for engineers, especially in software development, to share multiple roles within the same project, working as a team. In such situations, how can we set a satisfactory set of standards that measures engineers' abilities individually?
According to MTI the answer to that question was GAIT. MTI, famous for developing mobile contents such as music.jp and Luna Luna, provides substantially high-quality market research, content development services and state-of-the-art infrastructure in accordance to customer needs. In addition as a pioneer in this line of work, MTI provides enterprise support in the development and management of smart phone based web content.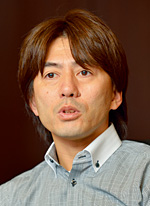 Mr. Kojima Katsumi
Senior Executive Officer, CIO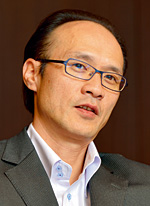 Mr. Yutaka Hamasaki
Director
IT Support Office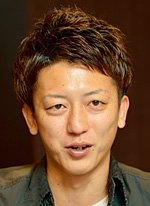 Mr. Takumi Sato
Assistant Manager
IT Support Office
In an impartial personnel evaluation, a digital assessment is required.
"In order to perform an impartial skill evaluation, a digital skill assessment to quantify the employees' skills is a necessity" Mr. Kojima Katsumi, Senior Executive Officer CIO explains. MTI has been doing personnel evaluation based on performance review, questionnaires and interviews with supervisors. In order to quantitatively measure a skill set, they started to search for a new solution in the fall of 2011."
"It was an important task for us to know which engineer is dedicated to which field and to standardize the baseline." says Mr. Yutaka Hamasaki, IT support office director. "In order to continue to improve the operational efficiency of the entire organization, it has become vital for all engineers to collaborate with engineers from different fields and broaden their knowledge spectrum.
At first MTI was considering using vendor examinations in conjunction with an in-house developed personnel evaluation exam. However "the sheer number of vendor licenses combined with the cost to develop our own exam proved to be a very resource-consuming process" says Takumi Sato, IT support office assistant manager. This is when they found GAIT. MTI started taking GAIT into consideration in July 2012. In August they took a trial examination and later that month it was decided that the GAIT program would be implemented to MTI. "During the implementation process, in order to take full advantage of the GAIT program, we asked to combine question items of our own with GAIT to design a MTI-tailored exam to fit our specific requirements" says Mr. Sato.

Firstly, MTI created new questions related to ITIL and agile development for over a period of about one week. It was then added into the GAIT exam by Japan Third Party within a few days and was then reviewed by MTI. In total, 10 categories, 140 questions were added to the original exam. "Japan Third Party was a huge help to us during the whole process of designing the evaluation system and always provided timely support." says Mr. Sato.
We plan to keep on using GAIT as our personnel evaluation system twice a year.
First exam of 190 employees was conducted in September. When assessing the results they
MTI's evaluation system is mostly based on the employee's business skill, management skill and technical skill. GAIT result is reflected in the technical skill section which occupies the largest proportion of the three.
"If we had developed this scheme on our own, it would not have been possible to implement at this point of time" says Mr.Sato. Not only does it require creation of high quality questions but the development of a fair assessment method is also necessary. "GAIT allowed us to achieve this with minimal effort which is one of the reasons we are planning to continue to evaluate our personnel using GAIT."
"Allowing us to clearly visualize our strengths and weaknesses is an advantage" says Mr. Hamasaki. "Not only can you evaluate within you organization, comparing with other companies in your industry is a very useful feature" says Mr. Kojima. It can also be used to evaluate new-hires as well as future business partners. MTI is currently building a database of the engineers and plans to revise the question items to improve the impartiality. "To realize a new scheme, we need more know-how on item creation and evaluation methods. I would like to thank Japan Third Party for their excellent services and hope for their support in the future." says Mr. Kojima.
Please note that titles and names of departments mentioned here were current at the time of interviews but may have changed since then.
Company Name: MTI Ltd.
Head Office:
35th Floor, Tokyo Opera City Tower 3-20-2 Nishi-Shinjuku, Shinjuku-ku, Tokyo 163-1435, Japan
TEL: 03-5333-6789
Date of Establishment: August 12, 1996
Capital: 22,562 million yen
Total Employee: 802(Consolidated Dec. 31, 2013)
Main Business: Content distribution for mobile phones
Inquiries about GAIT
Contact us for more information about adopting GAIT, its merits and detailed case studies.