Net One Systems Co., Ltd.
GAIT score demonstrates your strong points and weak points, motivating engineer's self-enhancement.
Net One Systems Co., Ltd. known as one of the largest network integrators in Japan, is underway of reviewing the skill set of its engineers to expand into new business areas. With a new policy to clarify the internal skills portfolio and develop a new education plan, GAIT was implemented in August 2013 and taken by 1,100 of its staff to quantify their current skill levels.
In order to expand business and follow new IT trends such as cloud computing, virtualization and mobile utility, a review in accordance with the new business strategy of what skill set a technician should have becomes an important challenge. The formulation of an appropriate engineering education plan based on the quantitative understanding of the current situation can be said to be the first step.
Net One Systems implemented GAIT as the solution. Founded in 1988, they have long reigned as Japan's largest network integrator with strengths in design, construction, and operation of network infrastructure, proud of its prominent domestic achievements in handling Cisco Systems products. However "The need to expand business beyond network infrastructure and into a higher layer has become apparent in recent years" says Mr. Takafumi Takeshita, Vice President, Service Business Operations. Because of the advances in virtualization technology, the border between computing and network has become ambiguous.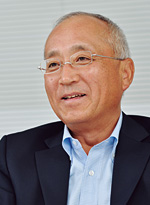 Mr. Norihisa Katayama
Executive Director, Vice President
Business Administration & Management Operations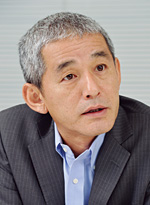 Mr. Takafumi Takeshita
Vice President
Service Business Operations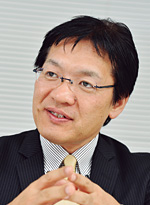 Mr. Tatsuro Hayashi
Operation Director
Human Resources Department
Business Administration & Management Operations
GAIT was implemented for all 1,100 engineers. Examination rate reached 98%.
To handle this situation, it is important to quantify the current skills portfolio that has been cultivated around network, and to fill the gap between the skill sets to be required in the future. "Skills inventory was based on interviews by the supervisor, but that only included qualitative information" says Mr. Takeshita. As a means to resolve this problem, they started to consider GAIT as an alternative in April 2012, but it did not lead to an immediate implementation.
Firstly, Net One Systems used other public certifications and vendor exams as the new training program. Between October 2012 and March 2013, the HR encouraged the employees to take Linux and network equipment vendor certification exams. "Contrary to our expectation, the number of certified persons was low. We also found that it was not necessarily a suitable way to quantify the skills of our engineers" says Mr. Takeshita.
Thus in April 2013, Net One Systems searched in earnest for the best solution to quantify the engineers' sets of skills and GAIT was adopted that July. In the three-week period from July 29st to August 23st, indeed 98% of the 1,100 engineers took the exam.
"I have the impression that everyone's motivation was high and it was the employees who took initiative to take the exam" says Mr. Norihisa Katayama, Executive Director, Vice President, Business Administration & Management Operations. "Self initiative" is also in line with the company's Code of Conduct. Mr. Takeshita explains that "the high motivation is a result of the fact that their actual comprehension level gets measured as a quantitative number".

GAIT score report is a valuable decision material as we aim to become "Artisans" in IT
Mr. Hayashi Tatsuro, Operation Director of Human Resources Department points out that "One of the biggest benefits of GAIT is the effortlessness in implementation". Examinees can take GAIT at their own desks whenever they have free time and all you need is the internet connection.
GAIT has a really small bias in question distribution, and the fact that you can compare results against average score of different industries was highly appreciated. "The result data analysis showed strength in network as we originally assumed. Therefore we felt that the reliability of the data is sufficiently high. Future plans include conducting a more detailed data analysis to improve the training program for our engineers" says Mr. Takeshita.
"We had a new corporate logo released in May 2013. The new motif is a kanji (Japanese character) called Takumi, with the intention aspiring each employee to aim at the heart and craftsmanship of Takumi unique to Japan." says Mr. Katayama. It is necessary for an engineer to be able to cover a wide range of technical areas. But GAIT would also play an important role in the decision process for them to choose which path he or she should take to become a specialist in a specific field.
Net One Systems is planning to use GAIT once every year. Mr. Katayama says "Since we are not a company that produces or manufactures merchandise, the most important asset for us is the human resources. And by further increasing its value, we pursue becoming an admired company, trusted and supported by all stakeholders."
Please note that titles and names of departments mentioned here were current at the time of interviews but may have changed since then.
Company Name: Net One Systems Co., Ltd.
Head Office: JP TOWER, 2-7-2 Marunouchi, Chiyoda-ku, Tokyo
TEL: 03-6256-0600
http://www.netone.co.jp/
Date of Establishment: February 1, 1988
Capital: 12,279 million yen
Total Employee: 2,210 (Consolidated as of March 31, 2013)
Main Business: ICT infrastructure related consulting, design, construction, operation, maintenance, etc.
Inquiries about GAIT
Contact us for more information about adopting GAIT, its merits and detailed case studies.